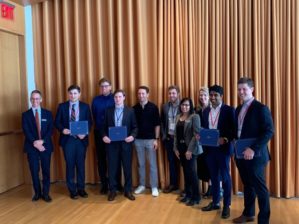 The Jerome Fisher Program in Management and Technology — commonly referred to as M&T — held its second annual summit on Saturday. Students heard from investors and entrepreneurs, interacted with program alumni, and saw presentations of senior student design projects.
This year's summit focused on "disruptive technologies" that cause changes in the market, such as cryptocurrencies and cloud computing. Seniors in M&T presented their design projects to a panel of alumni judges in competing for a $2,000 prize.
The summit kicked off with a moderated conversation between Engineering Dean Vijay Kumar and 1996 M&T graduate Jeff Fluhr, the co-founder of StubHub, Craft Ventures, and other companies. This was followed by a panel discussion featuring other M&T alumni which focused on the challenges of scaling companies to larger markets. Throughout the discussion, students and alumni in the audience asked questions about the panelists' experiences and accomplishments.