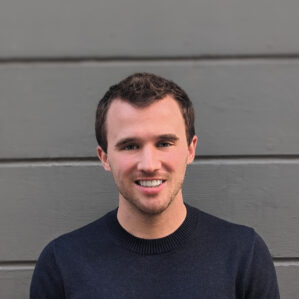 Jeff recently visited campus to meet with summer's M&TSI students to talk about his career and how the M&T Program helped shape his career path. We recently sat down with him to ask him about campus life and his post-graduation experiences. Herewith are his responses. 
Q: How did you learn about the M&T Program and why did you apply?
JG: In middle school and high school I ran a small business as the official photographer for my town's Little League baseball organization. Most afternoons I'd be at the baseball fields photographing one of the 50+ teams in the league, and I sold the pictures on a website I created. Parents could visit my website and buy prints or other products (coffee mugs, mousepads, etc.) of their kids playing baseball.
As part of that enterprise, I learned the basics of coding (HTML and JavaScript), as well as the basics of business (sales, marketing, managing employees, P&L, giving presentations, etc.). I enjoyed both sides, and my parents began encouraging me to find a path in college where I could study each of them.
As we were researching during my sophomore year of high school, we came across M&TSI, and it looked ideal — a great way to spend a few weeks during the summer being immersed in both subjects. I applied and got in, and after just a few days of M&TSI, it was clear that the dual-discipline approach was a fit for me. It was an easy decision to apply to M&T after my experience that summer in 2009.
Q: Talk a little about your career path and how you co-founded Shades.
JG: After M&T I went back out to the Bay Area (where I grew up) and worked at Google as a product manager. I was there from 2015 to 2022, working my way up the PM career ladder from Associate Product Manager to Group Product Manager.
I spent most of my time at Google working on the Discover Feed, which is Google's flagship news and interest feed. My work affected publishers, advertisers, and consumers and it became clear to me that traditional news feeds and aggregators (including the product I was working on), and the media industry overall, weren't meeting the needs of younger generations.
I was excited when I was introduced to my two cofounders, Sonali and Julio, by a mutual friend in 2022 (who is now an investor in Shades). The two of them had inspiring ideas about the future of news and information, and an early product they'd been putting together. They were looking for a third cofounder, and we started brainstorming and working together. I loved working with them and was excited to bring about the vision that the three of us had developed together, so I made the leap in November 2022 and quit my job at Google. It's been about 9 months on this journey to build Shades so far.
Q: In your opinion, what does the future of news and information look like?
JG: The future of news includes quick summaries of multiple perspectives.
The first part of that future — quick summaries — comes from the fact that younger generations rely on traditional media (news outlets, mainstream newsfeeds, etc.) at a historically low rate compared to other generations. They want information delivered in a more snackable, accessible, visual, and fun manner.
The second part of that future — multiple perspectives — comes from the fact that younger generations want to see the big picture, want to see different viewpoints even if they don't agree with them, and have a deeper natural curiosity than older generations.
Q: How will Shades compete with the traditional media cycle?
JG: We see Shades as the future of news and information, something that will serve younger generations and eventually be used by everyone. Shades is a way to get caught up quickly on everything happening in the world — both news and culture — and it always shows you quick summaries of multiple perspectives.
Among our most passionate early users, we're not substantially competing with traditional media companies, because young people don't often have news subscriptions, and aren't often using traditional newsfeed aggregators. We compete with apps like TikTok — the places where young people are currently getting daily information about what's happening in the world.
Q: What is your biggest challenge as co-founder of Shades?
JG: The biggest challenge has been learning how to tackle growth and go-to-market (GTM) strategy on the fly. At Google I learned a lot about understanding users, creating product roadmaps, leading teams, setting and championing culture, communicating priorities widely, and making technical decisions. But at the scale of a company like Google, distribution looks fundamentally different than it does for a startup company, and as a result, I didn't develop many transferable skills in growing a product's user base.
Although I didn't come into my Shades journey with that firsthand experience, I have learned a lot about GTM strategy from my cofounders (Julio was the COO of GitHub), from our investors and advisors, and from friends who have worked in GTM roles at small companies.
Q: How did the M&T Program prepare you for the road that's in front of you with your new company?
JG: In hindsight, being immersed in the intersection of technology and business for four years at M&T seems like the best possible training I could have had not only for being a product manager at Google but also for being a leader and cofounder of a startup company.
In particular, the M&T-specific classes MGMT 235 and MGMT 237 — taught respectively by Dr. William Hamilton and Dr. Saikat Chaudhuri, who were the two best professors I had at Penn — were a remarkably good simulation of what it's like to make daily decisions about technology and strategy and a startup company.
I think back often to Dr. H's "four questions" for evaluating a venture: 1) Does it work? 2) If so, how well? 3) Can it be applied to make money? 4) If so, how much? It's a simple and powerful framework, and the experience of applying those questions over and over in that class (and subsequently in projects with other M&Ts in and out of the classroom) made it second nature.
Q: What advice do you have for today's M&T's as they look towards their futures?
JG: It's easy to start something, but it's hard to finish something.
I have found that the best learning experiences happen, and the most opportunities present themselves when you commit to seeing a project through to completion. If you're hoping to get familiar with a new technology, learn a new skill, or add a marketable experience to your resume — my advice is to scope out a tractable project and finish it, even if the end result is modest in scope.
The "last mile" of a project is typically where people drop off, but it's where you learn the most. You should take on, and complete, a meaningful project outside of class or a formal work environment. You'll differentiate yourself, and you'll open doors for the future.