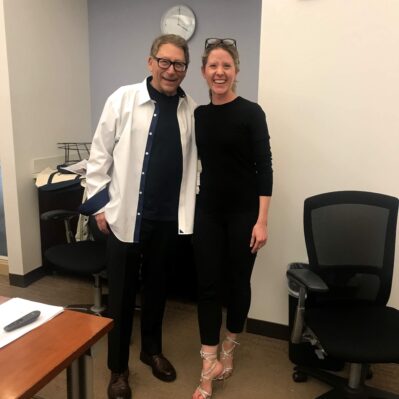 This post contributed by Beth Fisher (M&T '24)
You may have noticed a blank placard on your way to the third-floor seminar room in the M&T Office, but I promise sooner rather than later, a name will be there for you to Google. In your search, you'll likely discover Caitlin Adkins's impressive experience as a program manager at Penn Med and a director of operations at A.P.C., but there is so much more to Caitlin than her resume.
I had the pleasure of sitting down with Caitlin in the M&T Office a couple of weeks ago, so I could ask her a couple of truly hard-hitting questions. If you'd like to know how she can help you connect with a really impressive M&T alum and why she's qualified to do so…please book an appointment here and grill her yourself.
However, if you'd like to actually get to know Caitlin and learn more about her extensive travel resume or passion for "wellness walks," please keep reading.
BF: How would you like to be addressed by students?
CA: Just my first name. Caitlin is perfect!
BF: What is your favorite thing about Penn?
CA: I worked at the med school in alumni relations and development, putting my organizational dynamics masters to use. While I was earning my masters, I was also working full time, so I can empathize with M&T students about doing two things at once. Beyond academics, I have found there's always something fun to do on campus. I highly recommend looking for fun things to do with the ICA ––a concert or whatever they have going on. Honestly, just walking down Locust is one of my favorite things to do at Penn.
BF: What is your favorite spot on Penn's campus?
CA: Because I was working all day while getting my masters, I liked to take a break and study outside. Any sunny spot to do some reading is always preferred. The space behind Robbins House is one of my recent go-to's.
BF: What is your favorite thing to do in Philly?
CA: I've lived in West Philly for a long time with my husband, and I've concluded that there are almost too many good places to eat. I love the Ethiopian food here, particularly the restaurant on 43rd and Chestnut. It's the best Ethiopian food here in my opinion. Don Memo's food truck on 38th Street is incredible and worth the constant long line. Michael Ferrari is the best chef, and he's reopening Irwin's in South Philly. Besides eating, I also loved long-distance running in the city while my knees could handle it, especially along the trail. Now, I live in Germantown, which is home to the Wissahickon, a huge park in North Philly, which is a great day trip for Penn students.
BF: How do you destress?
CA: I do something that I learned in graduate school that started out as a joke with my team. We were doing a section on wellness, and my professor took the opportunity to define a "wellness walk": hold a stone in your hand so you can be "present" on the walk. My team started doing this once a day as a joke, but in the end, it wasn't a joke. 
We found it was really impactful to take time away from a screen, which reminds me that wellness walks are tech-free, but you can listen to a podcast if you must. Getting air and sunshine is such a good simple thing you can do every day to destress. We spend too much time sitting in one place in front of a screen. A 30-minute walk and staying hydrated are just the best. 
The wellness walk stone is optional.
BF: What's one thing that you do every day as part of your morning routine?
CA: I drink one cup of black coffee every day. I finally got down to one cup, but knocking the caffeine out took forever. I also try to read instead of watching tv to unwind before sleeping. I appreciate physical books and definitely encourage you all to take advantage of Penn libraries.
BF: What is your go-to drink at the M&T Office coffee bar? 
CA: Just water. I drink a gallon of water every day––I have a liter-size bottle, so I drink 4 a day. Speaking of water, I'm also an avid swimmer. I will take a dip at any temperature. My sister and I have jumped in the ocean in Washington State even in November, but I'm definitely not getting in the Schuylkill!
BF: If you could travel anywhere in the world for free, where would you go? Or what is the coolest place you've been to?
CA: I miss traveling so much. My husband and I love to travel. Before COVID, we went to Portugal for my mother-in-law's 70th birthday, Mexico City, and Greece because my husband was teaching a course for incoming MBA students at Wharton there. This was definitely a special year for travel––in that we did more than usual––but all the places were so amazing. Andalusia in Spain was also so beautiful. I appreciate now more than ever being able to travel anywhere!
BF: When should students meet with you?
CA: I'm here for whatever questions students have about career opportunities and internships and create connections between current students and alumni.
BF: If you could give undergraduate students one piece of advice about how to make the most out of their Penn experience, what would it be?
CA: Keep an open mind. Be open to different opportunities, something might surprise you and take you on a different trajectory. There's not really one road to take even if it seems like it.
Thank you so much for taking the time to get to know Caitlin with me. Please feel free to book an appointment with her if you want to learn more about what she does and/or who she is, and definitely introduce yourself to her if she's getting water while you're using the Keurig.