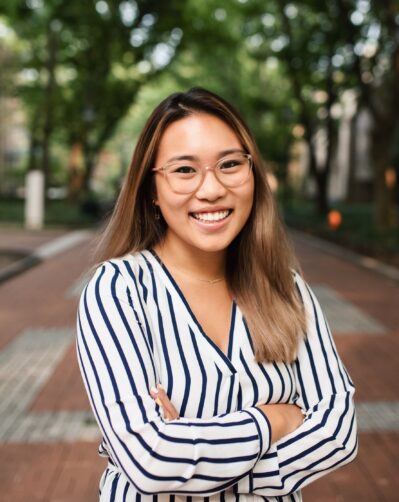 When I consider who best represents the M&T Community, Julie Chen (M&T '21) is one of the first people to come to mind. Her name always pops up, whether as a part of Class Board, M&T Board, the Penn startup ecosystem, or simply in the M&T Facebook group–all a testament to her involvement within the community. 
While Julie is clearly a successful, engaged, and charismatic member of the Penn community her path to and through Penn has not been without hardship.  We recently connected to discuss her initial struggles with imposter syndrome and over-commitment and how she was able to navigate these by seeking out meaningful communities and identifying her own priorities and values.
The beginnings
As a high school student just outside of Pittsburgh, Julie had very different interests than she does now. "I was a really big debater…I spent nearly every weekend at debate tournaments and would stay after school to practice. The critical thinking, the logic, and the public speaking, plus the really nice community it brought was awesome." When not working on debate, Julie spent time on Student Council and volunteering with local service-oriented or political groups. She admitted that she took on a lot in high school, but was glad that she took the time to cast a wide net, despite the packed schedule. "I don't know how I did it back then," she said, laughing. "I don't know how any of us did it."
Like many successful high school students, coming to college, especially at a place like Penn, was a whirlwind for Julie. She dove head first into the opportunities and organizations available on campus. She took difficult computer science classes, signed up for clubs, and met other Penn freshmen exploring the social life of the school. However, she soon found it difficult to keep up with what she called her "high school mindset." Instead, she found herself overburdened, especially as her grades fell in her most difficult classes, and began to drop some of the commitments that she didn't find useful. "That was probably one of the first times that I immediately dropped something and didn't commit entirely to different clubs."
In addition, many of her goals early on seemed out of reach, and that she doubted her own ability when she first arrived at Penn. Specifically, she remembers attending a panel of M&T upperclassmen and hearing about one (now one of her best friends) who had recently returned from an internship at Facebook and being awestruck. "I was like 'Oh my gosh, that guy must be so cool and smart' … but I just never thought that I could get there." Like many Penn freshmen, it was a classic case of imposter syndrome, even though she had already proven herself to be extremely capable.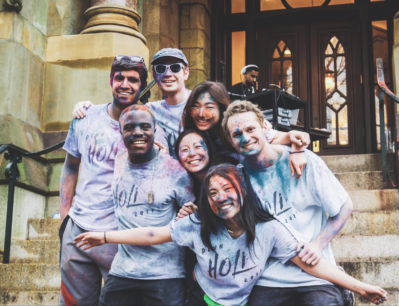 Finding communities
For Julie, one of the most important sources of support through these challenges came from the communities that she joined. She named several communities representing different parts of herself. 
First, she credits the M&T community with giving her invaluable guidance and motivation to make the most of her college experience. She's especially grateful for the upperclassmen who have guided her through Penn and to the community as a whole for exposing her to new academic and career interests. "I used to spend every waking moment not in class in the M&T office. I was always there and that's how I made so many M&T friends."
In addition, she also is a part of Class Board, which helps her embrace her school spirit and explore the diversity of Penn. "Everyone has a very different experience here, but we can still put all of our brains together and put on some fun events for our class." Indeed, while on Class Board, Julie helped organize the first U-Night, a new Penn tradition marking the half-way point of the college experience for sophomores. 
Finally, Julie is grateful for her sorority, Chi Omega. She said that her relationships with many of her sorority sisters have helped her become a better person and establish strong female friendships, especially when fields like computer science often have few female students. Despite the many issues that she sees within the Greek life community, she still has found it extremely rewarding. "I always say that Greek life is the only community that you'll ever be in that is based off of personality and values, [as opposed to] work or age or demographics or background."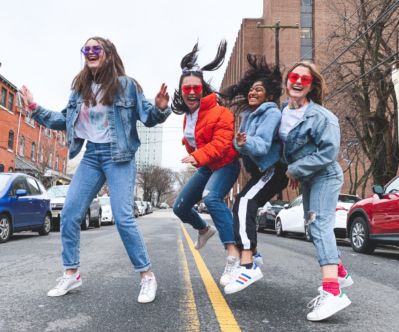 Values and Priorities
Julie tells me one of the most important lessons she has learned has been to identify her own values and priorities and to judge herself using those, not the values and priorities of others. Indeed, Julie has been extremely successful at Penn by any traditional standard. She's started her own company, Peerlift, that helps high school students find scholarships. She secured her dream internship at Facebook, followed by another at Bessemer Venture Partners, and she's proven to be a leader in her communities. But she insists that it isn't useful to judge herself by any traditional standard, or by any standard that isn't her own. Having reached success, at least on paper, she tells me that she was still scared and intimidated the whole way, and that trying to realize her own goals as opposed to someone else's ultimately helped her fight imposter syndrome. "We all have different strengths and weaknesses, and if I keep comparing my weaknesses to someone else's strengths, that's just not going to work out very well." 
Moving forward, Julie finds herself looking forward to what comes next. Whatever it is, she feels that she's found a strong set of values and priorities that will help drive her forward. She urges everyone to identify these values and goals for themselves. As for her, she's excited about what the future holds, and still continuing to live by her word: while many seniors have secure full-time job offers, Julie passed up a return offer from Bessemer in search of a startup role in New York that is a better fit for her. It's "terrifying," she says, but she's confident that with her friends, communities, and family, she can make the most of what's to come.
–
This post contributed by William Wang who is a junior studying Finance and Systems Engineering from Moorestown, NJ.