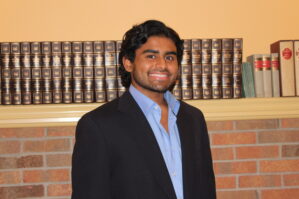 We recently sat down with Seth Thayumanavan (M&T'24) who was awarded the Naren Udayagiri Scholarship in recognition of outstanding scholarly achievements to the School and University community. He explains why he won the scholarship, his time in the M&T program, and his plans for after graduation. 
Q: Congratulations on receiving the Naren Udayagiri Scholarship! Can you talk a little bit about the scholarship and why you won?
ST: The scholarship is awarded to an M&T junior who "achieved distinction scholastically and demonstrated commitment to excellence in both engineering and business." It's a fairly broad description, but essentially, I believe it is meant to honor consistent hard work and academic achievement in the program. I am incredibly grateful for being considered for the award, but I have no doubt that many of my peers are just as talented and deserving of it as I am. I think the main reason I was considered for the position is because I've really tried to focus to develop both as a Wharton student and as an Engineering student, and tried to balance both sides of my education without letting one slip in favor of the other.
Q: How did you decide you wanted to apply to the M&T program?
ST: I actually didn't apply to the M&T program as a freshman coming into Penn. I transferred into the program at the end of my freshman year. When I learned about the program, it instantly piqued my interest because I saw it as a way to bridge the gap between highly technical researchers, who have the capability to develop new technology and businesspeople who can raise funds and bring a product to market. My dad is a professor of chemistry, and as a result, I have been surrounded by innovation and academic research my whole life. Unfortunately, this meant I got to see firsthand the disconnect between researchers who cared about scientific innovation, without a complete understanding of how they could be monetized and brought to market, and investors, who didn't really care about how good an idea was, only how much money it could make. As a result, I saw a lot of great ideas get left on the cutting room floor. I want to make sure that I developed the knowledge to not only develop great ideas but also bring them to the market so they can create value.
Q: Can you talk a little about your time in the M&T Program thus far? What has been most valuable about it?
ST:  I've loved my time in M&T so far. Obviously, being in the program has given me access to great classes and opportunities, and the M&T office is one of my favorite places to study, but without a doubt, the best part of the program has been the people. First of all, my fellow students in the program are some of my best friends on campus. All my current roommates are M&T students and we're extremely close. I love living with them. On top of that, M&T has given me some of the best mentors in the world. Caitlin, Gad, and Sangeeta are some of my biggest supporters on campus, and I have talked to probably over 20 M&T alumni, all of whom are deeply invested in helping guide my career path, and many of whom I am still in contact with today. Gad likes to say that joining M&T means joining a lifelong community, and after two years in the program, I have no doubt that that's true.
Q: What are your plans for the summer?
ST: I am currently deciding between an analyst position at Barclays Bank and doing operations and supply chain work at a startup led by an M&T alum. I haven't yet decided which one I want to do because both opportunities are really exciting.
Q: When you look ahead past graduation, where do you see yourself? What are your goals for when you graduate and enter the workforce?
ST: Long term, I really want to be an entrepreneur, specifically in the sustainability and clean materials space. I think there's a lot of interesting work being done in the sustainability space, and I want to be at the epicenter of those innovations. In the short term, after graduation, my goal is simply to build the skills that will help me achieve my long-term goal. There is a range of skills required to be a successful founder, and I want to explore all those opportunities. As a result, I'm still not sure about the industry that I will go into directly after graduation.
Q: What's one piece of advice you have for incoming M&T students?
ST: Try everything; don't be caught up in a single path. College is an opportunity to explore all facets of your interests, and that's true in general, not just for M&T. What makes M&T special though, is that even after you declare your major, you still have plenty of options in front of you. You may come into Penn wanting to be strictly a SWE, or an engineer, or a banker, or whatever, but try exploring other fields as well. Some of my friends completely switched career paths after trying a new club. And this advice extends beyond your career path. Try playing a sport, joining a social club, or any of the other things on campus that go beyond academics. Academics aren't everything.