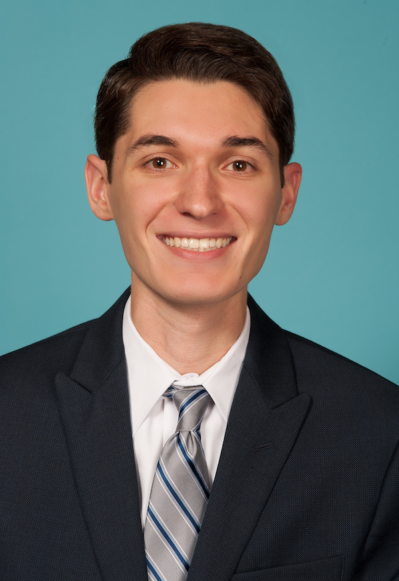 Did you enter graduate school or the workforce after graduation?
As someone passionate about transportation systems for my entire life, studying Systems Engineering was a natural fit for the engineering component of my M&T undergrad, but I knew I wanted to pursue an advanced degree in this realm with an emphasis on transportation systems. Penn's submatriculation program allowed me to begin my graduate studies while still an undergrad, and to augment my technical engineering masters with transportation classes in the School of Design's City & Regional Planning masters program. Beyond this, I always had an interest in law and the highly-regulated landscape of transportation. True to Penn's nature as the ideal school for integrated, interdisciplinary education, I was also able to join Penn Law's new Master in Law program, designed to provide industry professionals a distilled core legal framework plus relevant upper-level JD courses in one's principal industry interests (in my case, Regulatory & Technology Law).
Since graduation from these masters degree programs, I've been working in the Digital Solutions group of Keolis, a global mobility provider of more than three billion annual journeys across four continents and sixteen countries. My focal area is the contract to operate and maintain the MBTA Commuter Rail in Boston — the nation's fifth-largest commuter railroad responsible for 127,000 journeys throughout Massachusetts and Rhode Island — wherein I'm responsible for using technology to enhance our operational practices and improve the customer experience.
What is a day in the life like post-graduation?
The transportation industry is rapidly evolving, and no two days are ever the same. On any day, I could be working with our organization's executives to implement new technologies that enhance operational practices and safety, meeting with our Operations Planning team to implement new tools that can enhance service scheduling, working with our developers to provide better real-time information to customers, and more. And then there are the days I plan to do all of these things, and a major event on the railroad shifts these plans entirely (an all too common occurrence). True to the above, my computer and phones are constantly rotating between IDEs, PowerPoint decks, real-time dashboards of on-time performance and location/track data, Title 49 of the US Code of Federal Regulations, and railroad operating bulletins; in addition to our headquarters, I'm a regular in our stations, on our trains, in our dispatch facilities, and at other field locations.
Outside of work, true to form, you'll likely find me exploring transit systems with friends (I've ridden every route mile of over 80 transit systems), playing board games in some city along the Northeast Corridor, or reading on the beach in Florida, "down the shore" in NJ, or off of the T during a "Boston summah."
What do you love most about what you're currently doing?
Transportation systems have always been my passion, and I get to spend every day finding ways to leverage new technologies to make our trains more efficient and to improve the customer experience. Every day is a challenge, particularly in an industry where the vast majority of customers want their journey to be nothing more but forgettable. Nonetheless, seeing the impact of your work manifest in better operating performance, better communication, and higher satisfaction is tremendously rewarding — the productivity of Boston's workforce and the success of the regional economy depend on it.
How did M&T prepare you for what you're doing now? Alternatively, how do you see the duality of M&T coming through in what you do now?
I embody the M&T spirit on a daily basis in a true "Management of Technology" role. As someone who fundamentally serves a technical role on our Digital Solutions team, my engineering background is constantly in use to analyze performance, evaluate workflows, and implement technical solutions across our railroad's operations. However, having the business school acumen to analyze and convey the business case of our projects and how it fits within the scope of our contracted operation pays infinite dividends beyond the fundamental management skills constantly employed.
Where do you see yourself going in the future?
I've long wanted to run a transit agency, operating entity, or even the USDOT as Secretary of Transportation, but as transportation technology undergoes this current period of rapid innovation, it's possible my future career might fall in some transportation domain that has not yet been established. Nonetheless, being able to make a difference in a domain as critical yet invisible as the world's transportation system is something I find tremendously interesting and rewarding.
What advice do you have for someone who wants to follow a similar path?
College and graduate school is the best time to soak up knowledge that's useful in your daily life and career. Focus on taking classes that both interest you and fit with your future career goals. But most importantly, find ways to spend time with key players in your industry. From working for the Chief Engineer of Amtrak while in high school, to spending a summer on the DC Metro CEO's action team, I've been able to have a significant impact even during short internships, in addition to gaining valuable experience and learning from their careers.
Jeff Kessler graduated from the M&T Program in 2016 with a BSE in Behavioral Economics from the Wharton School and a BSE in Systems Engineering from the School of Engineering and Applied Science at the University of Pennsylvania. He also earned a Masters in Systems Engineering and a Masters in Law both from the University of Pennsylvania. He is currently a Senior Application Specialist for Keolis Commuter Services.
This post was contributed by William Wang (M&T '22) who is currently pursuing degrees in Systems Engineering from the School of Engineering and Applied Sciences and Finance at the Wharton School.