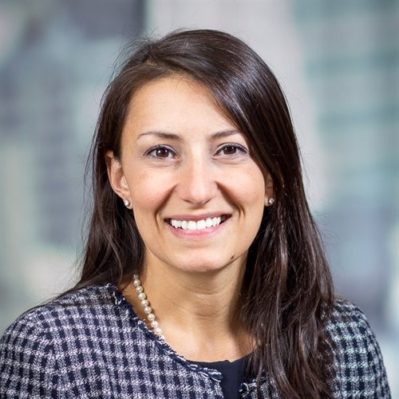 What is a day in the life like for you?
Like most working new moms – it's a juggle. I get up early, try to exercise (the one small window of time each day I get to myself) and have a little bit of time with my baby girl before heading into work. Each day at work is different – could be traveling to see clients, in the office in back to back meetings or, sometimes, have some quiet time modeling a fun problem. I try to rush home to catch bedtime and then maybe do a bit more work before having a quick dinner with my husband and going to bed.
What do you love most about what you're currently doing?
Interesting work with wonderful people. It's not all that different than M&T. The work is broad and challenging – both from an organizational and quantitative perspective. I am incredibly lucky to work with such amazing people – both my colleagues and my clients are smart, hardworking, and incredibly kind. It's humbling to work with such inspirational people.
How do you see the duality of M&T coming through in what you do now?
I feel like my job was made for an M&T. I always thought of myself as an engineer first, and sought out a job where I could put the 'T' side of the degree to work, solving problems and using the quantitative/creative side of my brain. I concentrated in Finance and Entrepreneurship on the 'M' side. The Finance aspects were immediately applicable, almost like being fluent in a foreign language when you move abroad. As I've moved into more senior roles where I get to run a team and set strategy, the Entrepreneurship classes have been critical. I have found myself going back to old textbooks and revisiting concepts from Dr. H's class as I think about how to set strategy for our business as the industry works through a critical transition.
Where do you see yourself going in the future?
The more time I spend running a team and a business, the more fascinating I find that side of things. Like many M&T's, I have always had too many interests and would rather be doing a bit of everything. Whether I find myself running a larger team within the firm, or starting my own venture, I think my real passion lies in identifying talent and setting up organizations to help those people excel.
What advice do you have for someone who wants to follow a similar path?
If you surround yourself with people you like and respect, the rest will fall into place. There are so many interesting jobs; find a place where you can take responsibility and enjoy working with the team around you. Also, make sure you have senior sponsors that you trust, that can help you mold both your strengths and weaknesses.
Kimberly Gallant graduated from the M&T Program in 2008 with a BSE in Finance & Entrepreneurship from the Wharton School and a BSE in Mechanical Engineering from the School of Engineering and Applied Science at the University of Pennsylvania. She is currently an Executive Director at JP Morgan Chase & Co.