Anish Neervannan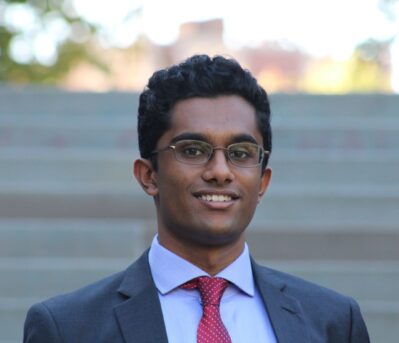 Hometown:
Irvine, CA
Engineering Major:
Computer and Information Science
Wharton Concentration:
Finance
---
Why M&T?
Coming into Penn, despite my strong interest in fields such as machine learning and robotics, I always knew that I wanted to do more with my love for building technology. M&T has given me the opportunity to not only go deep into these fields but also understand their implications from a financial, managerial, and operations perspective. The flexibility to tailor-make not only coursework but also internships, extracurriculars, and advising to my interests has been super valuable and I've had a very holistic and immersive experience as a result.

What are you involved in on campus?
I'm an Investment Partner at The MBA Fund, an on-campus VC fund that invests in the top startups coming out of the Wharton, Harvard, and Stanford campuses. Additionally, I'm in the Wharton Investment & Trading Group, and my team specifically focuses on evaluating companies and deals in the technology sector from a financial/investment perspective. I am also a violinist for Penn Sargam, a South Asian classical fusion group.
Favorite classes and why?
I've really enjoyed ESE 301 – Prof. Venkatesh presents a super interesting narrative and makes the course content engaging despite the difficulty of the course. Other classes I've enjoyed are ESE 546 (Deep Learning) and FNCE 207 (Valuation).
Best part of the M&T Community?
One of the privileges of being an M&T is exclusive access to an office with snacks and free printing (which is a huge perk!). But most importantly, the office is where I've had random deep conversations with M&Ts that I had never met before and where I've met some of my closest friends on campus. Everybody I've met in the M&T community is super unique and the community that the office fosters is unparalleled.
Favorite part of Philly?
My two favorite places to explore in Philly are Chinatown and Penn's Landing. Chinatown has an awesome set of restaurants and I always love to eat at new authentic restaurants when I have the time with my friends on weekends. Penn's Landing is a great place to visit during the Holiday season when they put up the ice rink!
Fun fact!
A monkey once stole my glasses in India and I had to get them back buying a banana and giving it to the monkey!