Rose Wang, now a member of the M&T class of 2025, took a gap year prior to arriving for her freshman year at UPenn. Epitomizing the term "interdisciplinary," Rose reminds us about the importance of keeping an open-mind, ready to embrace the most spontaneous curiosities.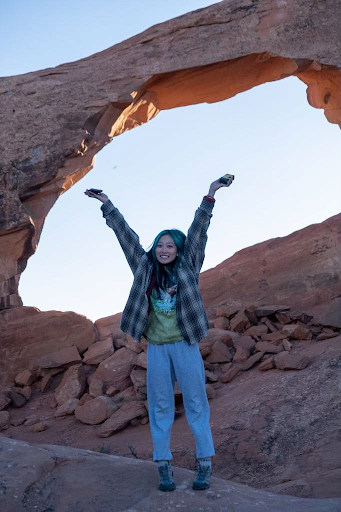 Tell us about where you're from!
I went to high school in Chapel Hill during my freshman and sophomore years – I enjoyed my time there, but I applied to a North Carolina public boarding school (NCSSM!) my sophomore year – I got in and decided to spend my junior and senior years there. I went and enjoyed the boarding school experience, which I thought really allowed me to expose myself to a lot of unique opportunities and changed a lot of my interests. It's there that I really started exploring business and engineering topics like entrepreneurship and computer science. Through my school's research in computational science program, I did a project on respiratory disease, focused on applying ML to aggregate data, and it wasn't particularly successful but that was okay! I enjoyed the experience of getting to work with a university professor as a mentor and exposing myself to something so technical in high school. 
Why M&T?
I was accepted to M&T RD and was trying to decide what I wanted to do – I had a background in politics and at first didn't think that M&T would give me the opportunities to pursue that. But after doing some research and talking to a lot of people, I thought that the pre-professional culture at UPenn in general was a much better fit for me over the liberal-arts education at schools like Yale. I liked the idea that M&T was a program – with a strong community and people who cared about you – rather than "just a college." 
The Gap Year
I was already thinking about taking a gap-year and when COVID-19 really hit, I was fully persuaded to do so. I started looking for jobs in my area – in Raleigh, I found a startup, the CEO was a really interesting guy that was focused on SaaS spreadsheets – kind of like AirTable – and I did some software development work, which was actually initially challenging for me because my background was pretty strictly in data science. I think this opportunity helped me realize that I needed to do more on the development side – so I took a full-stack class, and was also at the same time working for another startup with their marketing. So I got to work building this other guy's business plan, marketing strategy, and value proposition. 
After that, I went back to politics – I worked for Cal Cunningham when he was catching heat for having an affair, and that was actually the moment that turned me off a little bit from politics – mainly I was just disappointed in people and politicians. But I went to Arizona post-election to work for the democratic party until the election wrapped up.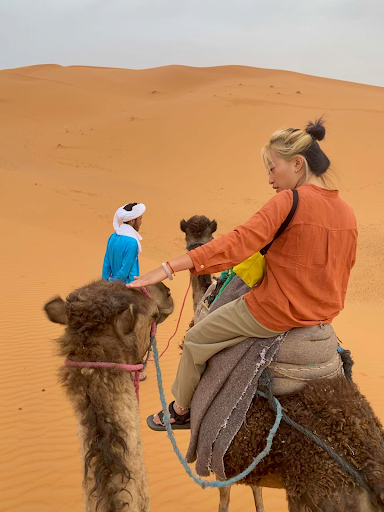 To return home, I did a road trip from Arizona to NC and lived a van life for a while. I worked for two more startups along the lines of civic tech to (1) figure out what interested me in the field of business and (2) use my newfound technical skills. I learned a lot about the obstacles in civic tech, and I picked up a wide variety of skills like UI/UX design, industry standard software, social media ads, web scraper scripting – just a lot of technical stuff! 
But afterwards, I kind of did a complete 180 – I traveled to Hawaii to do a Workaway. Workaway is a platform that connects you with hosts and you'd go and work for hosts in exchange for lodging. I worked with a pollinating garden non-profit and I found it was a really great break from all the technical work I was doing. 
Then I went to Morocco and worked as a teacher at an English school. I traveled from school to school. I lived nomadically – and while people always think it sounds cool, the idea of not having a home in reality is not fun. So I moved every few days until I finally found a host that would let me stay in one place. With a new home, I traveled all around Morocco: I even got the chance to climb Mount Toubkal, which is the tallest mountain in North Africa. 
Throughout my time in Morocco, I had this strong fascination with learning how to butcher – I think it stemmed from my being uncomfortable with the fact that I wasn't close with my consumption of meat. I was like okay, I need to get closer with my consumption of meat. Little things like that – I was just trying to find to learn how to do and appreciate during my two months there.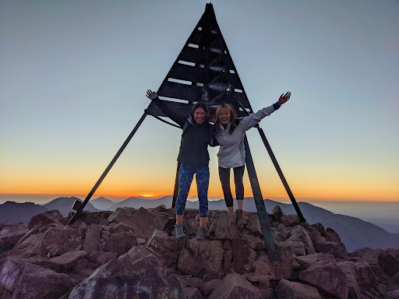 Next, while I was on this side of the Atlantic, I wanted to visit Europe – why not? I went to France, where I found a host there from the UK, who was a butcher, a farmer, and a professional chef. She was honestly the perfect person for me – I reached out to her and she loved the idea of having me stay with her. I cooked, I farmed, I butchered pigs, I made cheese, just crazy things! We sold things at the farmers market together, where I met a woman who was a snail farmer. Visiting her farm, I learned about how snails are farmed, as well as the importance of sustainable farming.
And that was the end of my gap! 
Rose is pursuing a degree in CIS and is undecided in Wharton – she comes to us from her hometown of Chapel Hill, North Carolina.
__________
This post was contributed by Andrew Zhen (M&T '25)