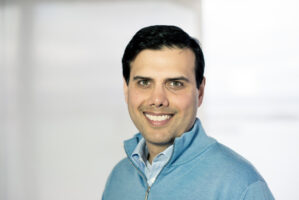 Q: What is your current role?
AM: I've been an investor in or CEO of software companies for the last 25 years. My core focus is small- and mid-cap public software companies in North America. My investing approach combines my private equity and operating backgrounds. Today, I invest in public and private companies through my firm, SQN Investors, which I founded in 2014.
I went to McKinsey after I graduated from Penn. I worked at General Atlantic Partners, which was my first exposure to technology investing. Since then, I have been focused exclusively on the software sector as an investor or operator.
Q: How did your time in the MT program prepare you for the career path you took?
AM: I was a chemical engineer with a finance concentration, and finance is of course relevant to what I do today. With chemical engineering, more than anything, I learned how to problem-solve and manage massively challenging workloads.  As an engineer, I am also able to relate to many of the software engineers I end up talking to or working with.  Having an understanding of the technical side of a business, and the challenges companies face, is a skill I first learned at Penn.
Q: Do you have advice for current students?
AM: My view on this has changed a lot in the last several years. M&T students who wanted to enter business used to typically focus on going into banking or consulting after graduation.  Today, there are so many compelling opportunities to join a company and gain operational experience.  Meaning, work at a company and learning how things work. I would encourage students seeking a business career to really try something operational. This could also be at a startup.  But with a startup, if you are not the founder, I think it's imperative to have a great mentor or CEO whom you can learn from. I think that helped me the most in my career
Q: What is different now from when you graduated?
AM: When I graduated there were only a few paths you could follow to start your career. Today, there is no set path on how to start your career and therefore it requires more thought. You could go to Wall Street or consulting, or you could go work for one of many types of corporations. You could do a startup. You could go directly into investing.  And of course, you could go on to get your master's degree or Ph.D. You could go work for a start-up or start your own. Today, graduates must think about who is going to be their mentor and who are they going to learn from in their first and second jobs. As smart as Penn students are, even just having a real-life career mentor is important. Especially if you're not going to go down a traditional path, you really need to know where you are going to get guidance and input.
Q: How did you choose the M&T Program?
AM: I applied early decision and I choose M&T because I had an interest in business, but because I also had an entrepreneurial side to me that I wanted to develop. The M&T Program proved to be a great place for me to figure all of that out.