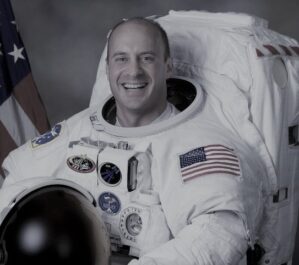 Garrett is a NASA veteran who flew on all three Space Shuttles. When he left NASA in 2011, he joined Elon Musk at SpaceX, where he served in multiple capacities, most recently as the Director of Space Operations. He's currently a professor of astronautical engineering at the University of Southern California, and he is the inaugural recipient of the Jerome Fisher M&T Distinguished Alumni award. We recently had the pleasure of sitting down to catch up with Garrett to discuss his impressive career and his M&T roots.
Q: Did you always know you wanted to be an astronaut?
GR: I always found it fascinating when I was a kid. I was captivated by the early space shuttle flights, but all the people on those flights were military test pilots. I had a mom who feared flying so there was no way she was going to let her son become a fighter pilot. I remember on one parents' weekend, we were eating at a Moroccan restaurant in Philly with some other M&T families, and I had said I was thinking that instead of going to grad school, I would join the Air National Guard and she freaked out. So, I knew that avenue was closed.
I tell this story a lot when I talk about the importance of representation. I didn't see anyone that looked like me flying to the moon. They were all test pilots, but that was not me, so I thought I couldn't do it. It wasn't until my fifth year at Penn, in the M&T Program, that I got a hold of the bios of some of the astronauts that NASA had just selected for the shuttle program and saw that they weren't just test pilots, they were scientists, engineers, and medical doctors. I realized then that maybe it was in the realm of possibility for me to become an astronaut.
So, I resolved that when the time was right, I would apply. If you would have asked me in high school what I was going to do after college, I would have told you I wasn't sure. I knew I was interested in STEM fields, but I wasn't sure what I really wanted to do. I liked the idea of having an engineering degree, and a Wharton education so I would have more opportunities available to me.
Q: How did the M&T Program prepare you for your adventures in space?
GR: It prepared me in the sense that being an astronaut involves managing technology operationally. We didn't have to make large decisions about design or development or test or marketing but at the end of the day, we were still managing technology.
When it really played a strong role was after I left NASA and was working at SpaceX. I left NASA in 2011 and started working directly for Elon Musk at SpaceX. That's where the strategic classroom lessons I had learned really came in handy and I could see those lessons play out outside of the classroom in the "real world." The strategic M&T knowledge helped me make tactical decisions at SpaceX regarding technological disruption. Suddenly, I was in the middle of it.
Q: What was your favorite thing about your space missions?
GR: Not the food – the food was terrible! My favorite thing had to be doing the space walk. That was the most amazing experience and the best part of the whole thing.
Q: What does your post-NASA career look like?
GR: I've sort of come full circle and am back in academia. I'm a professor of astronautical engineering at the University of Southern California (USC), where I teach classes on human space flight. I came up with my curriculum based on what we were teaching people on the job at SpaceX. I did a gap analysis and looked at what was being taught and what new employees were missing when they first came to SpaceX, and I put together my courses based on those gaps. A lot of my students are working at Space X, Blue Origin, Axiom, Sea Air Space, Boeing, Lockheed Martin, etc. There's currently a strong demand for this type of talent.
I'm also a technical consultant on an Apple TV show, For All Mankind. It's a history of the space program, but the Soviets land on the moon first and it explores the butterfly effect of that. So, I'm using all my M&T knowledge for the show because it's all about technical disruption. The main question that sparked the show's concept, was that if the space race played out differently, how would the rest of the world change and how would technology change? What would have happened if we would have sustained that level of effort is the central question the show asks. What would have happened to commercial technology? Would electric vehicles have been introduced earlier?
I basically get to touch every aspect of the production for the show. I start out in the writers' room and sit with the writers to bat around ideas and try to direct them toward scenarios that comply with the laws of physics. Then they write the scripts and I review them. And then I head to the set and work with the cast to tell them what it's like to move in zero gravity and what it's like to wear a space suit. I work with hair and make-up to talk about things like what happens to your hair in space, and I work with the visual effects team and the stunt teams to try to figure out how to accurately portray a space-walk scene, and more specifically, how to fake it since we're filming here on Earth. We talk about what they would be wearing and what tools would they have. It's a lot of fun.
And, since I live in LA, I also have a podcast, 2 Funny Astronauts. I also do some motivational speaking.
Q: Can you talk about your work with SpaceX?
GR: It was near the beginning. They had been around for about 8 or 9 years at that point, but it was before they really hit it big. I was employee number 1,400 or so. It was at the point where they were poised for growth, but it hadn't really happened yet. It wasn't until we acquired the cargo contract with NASA, that SpaceX literally took off. When I joined the company, they had only flown the Falcon 9 rocket 2 two times and the Dragon cargo vehicle one time. It was still a small, scrappy place by comparison to what it is today, which is one of the major players in the aerospace industry.
I was brought into the company and given an innocuous title and I didn't have a job description. Whatever I thought I was going to do at SpaceX changed on my first day in the office. The first day I was called into Elon's cubical, and he said, hey, you know we just bid for this NASA contract, and if we get it I need you to run it. For my first five years at SpaceX, I had a variety of leadership and executive managerial responsibilities. I ran our projects that had to do with the human space flight goals of the company, and I also ran the proposal team, which was the team that would respond to RFPs and goes through large government procurement processes to obtain a large government contract.
The final value of that contract turned out to be about $3 billion and I said we needed a proper operations team to fulfill the contract, so during my final two years with the company, I was their director of space operations.
Q: What is one piece of advice you'd give to a current M&T student today?
GR: The one thing I would say is that you can't be too afraid to fail. Push yourself outside of your comfort zone even if you think it's not the optimal path to success – and don't let the fear of failure hold you back.
A lot of M&T students are confronted with many different paths they can take when they graduate, and it can be overwhelming and cause anxiety. There are so many options, and they don't know which is the 'right' one to choose. I remember when I was at the end of my M&T program and I was choosing between different graduate schools I asked Dr. H. if I should go to MIT or Caltech, and he laughed and said pick one, you can't go wrong. One of the biggest pieces of advice I give is, don't get too wrapped up in picking path A or path B. It's like you're trying to solve an optimization problem, but you don't have all the information you need because you can't see the future and you don't know how anything is going to turn out. It's almost always impossible to determine which one is a better option – and even after you pick it, you might not know. So, pick one and go for it with all you've got.