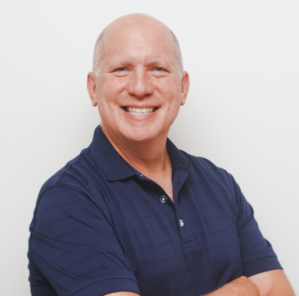 Neil has coached and advised many young adults on careers and job searches, helping them to move into exciting new full-time jobs and internships. We talked to Neil about the impact the M&T Program has had on his career path and the valuable advice he has for current students and young alumni.
Q: Thanks for meeting with us, Neil. Can you please tell us a little bit about yourself and what you do?
ND: I coach and advise young adults on careers and job searches. I help people with a variety of areas – introspection, preparing their career documents, helping them identify and grow their networks, helping them obtain and do well at meetings and interviews, and helping them evaluate and negotiate offers and get off on a good footing in their new jobs. My clientele tends to be 18- to 30-year-olds or so, and I help with internships and full-time positions.                         
Q: How did you get into this line of work?
ND: I founded my company after being heavily involved in HR activities throughout my career. Most notably, before I founded Danzger Group, I was the founder of a fintech company that offers trading systems to hedge funds. I was CFO, but I also ran HR for that company and, over a 10-year span, hired a hundred people and reviewed thousands of resumes.
I'm also the dad of four young adults – ranging from ages 21 through 26. Two are finished with their studies for now and working, and two are still studying – so I have a personal interest in helping young adults launch.
I function much like a college admissions counselor, helping at the right time and with the right third-party advice.
Q: What did the beginning of your career look like? How did you get started after graduating from Penn?
ND: My career has been at the intersection of finance and technology, and I have done that wearing many hats. Upon graduating from Penn, I started off my career as a Wall Street technologist at an investment bank. I then became an equity analyst at a big brokerage firm, and that morphed into operating a technology company. I also have consulted as a CFO for young growth companies.
Q: Did you always have an interest in HR?
ND: My interest came about organically. We all look for new jobs and change jobs, and as my career evolved, I became interested in the human capital process. I took on the responsibility of running an HR department. I have hired people in different operating capacities in my career, but my formal HR responsibilities came with the fintech firm I co-founded.
Q: You obviously spend a lot of time with young adults and aspiring professionals, so what is the one piece of advice that you would give to current students as they look ahead to post-graduation?
ND: Take advantage of your time on campus – and of your time in general – to explore different avenues, roles, and the types of companies in which you want to operate. There are various environments to really look at – big companies, small companies, start-ups, etc. The early years are a time for exploration and getting to know people while learning about what might work for you and what you might be interested in.
I always encourage people to understand their strengths and interests and find roles that satisfy those. Networking and learning from others are a big piece of this in terms of figuring out what's right for you. Be curious. Have lots of conversations and use the time – especially in college – for these special opportunities. Take advantage of the company presentations and coffee chats that take place on campus. Getting good grades and completing courses is important – but college isn't just about getting a great transcript. You need to build relationships internally and externally.
Finally, do not be afraid to make a decision. A lot of young people today think if they make the wrong decision, it's going to shut every door down the line, and the answer is simply, no. There is plenty of room in life for pivoting and trying new things – and now is really the time to do that.
Q: How did your time at M&T shape who you are today?
ND: It gave me a lot of versatility in two key areas – finance and business – and in disciplines such as marketing and management, investment analysis, engineering, computer science, and applying technology to solving problems. As a result of my time in the program, I have a Swiss Army Knife of tools that I have utilized throughout my career. It's why I have succeeded in such a broad range of activities. I have made some meaningful career shifts from function to function, perhaps more so than many. I was able to do that because of the toolset I have.
Q: Do you have any parting words of wisdom for students and alumni?
ND: I encourage people to follow their strengths and interests and do it in a way that meets their goals. Avoid being swept up by conventional thinking in terms of what career paths are exciting, prestigious, or desirable. Be true to yourself when picking a career and do what interests you. If you have the drive, ambition, and interest – and the right attitude – you will be successful.