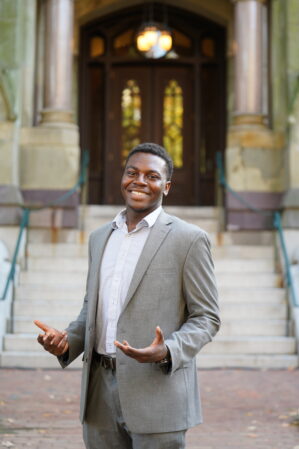 He recently sat down with us to talk about why he chose Penn's M&T Program and what he hopes to do upon graduating.
Why did you choose the M&T program?
OT: I actually started out at Penn as a math major, however during my freshman year, I became interested in computer science and met some M&T students. Through those friendships and relationships, I learned a lot about the value of the intersection between leadership and technology, and how it can be applied to solve real-world problems. Further, during a course in which I was studying water management in the Middle East, I learned what can happen when you have strong technological solutions but lack solid management and leadership experience. During that course, I learned that water management technology went awry when leadership failed to harness it correctly. I want to be a business leader with a strong command of the technology around me. The combination of the skillset, and the conversations I had with current students, inspired me to apply.
How do you think M&T will prepare you for post-graduation?
OT: This program will open a lot of doors to careers and industries I wasn't exposed to before, as well as an intersection of job roles that I didn't have access to previously. I'm currently learning about venture capital, entrepreneurship, the various career paths I can take, and the ways business and technology are blending.
One of my favorite pastimes is listening to upperclassmen and alumni talk about their professional development – those who have gone into firms, and those who are starting their own companies. It's helping me figure out what I want to do professionally. I have an interest in entrepreneurship and starting my own company, and I think between learning tech and business very young, and making connections with my fellow students and alumni, I will have a large support system.
What are your goals for post-graduation?  
OT:  Immediately, I would like to do something more tech-focused. Something like software engineering at a firm – whether it's a large company or a start-up. This will give me the opportunity to learn about technology, machine, learning and robotics, and database work. After that, I'd like to rotate into a more entrepreneurial role – either starting my own firm or joining a venture capital firm. After that, I'd like to take on a more humanitarian type of role – giving back, more public service. Something that combines tech and political systems. I don't know what that would look like long-term, but I want to pursue a public service-type role with my background at some point.
What advice would you give to a rising college student interested in pursuing this program?
OT: The best part about being in the Penn M&T Program is that you're in an environment with a close-knit group of people who are doing phenomenal things. There are only 50-60 of us per year. Taking the time to develop very close relationships with your fellow M&Ts really helps you figure out what you want to do professionally. You learn how to talk the talk with business and walk the walk with technology.
In terms of advice, I would tell a future student to find balance. Not just between Wharton and Engineering, but also making sure you're enjoying the journey. Balance your semesters so that you're taking classes you enjoy, and ones you have to take to satisfy your requirements; and that you're finding a balance between the tough courses and ones that might come easier to you. Finally, take advantage of the opportunities to connect with alumni when they come back to campus for events or for coffee. The best way to learn is to hear from those who have gone before you and there are always opportunities to meet with people on campus in a meaningful way.