Just less than a month ago, I was feasting on a vegetable, meat, potato, almost-everything-great-in-life filled empanada in one hand and a peculiar tart ice cream sample from a local vendor in the other, chatting with a local guard on the streets of Medellin. This doesn't even capture 1/1000th of my time in Colombia. No blog can truly do justice to the authenticity and beauty of the country – but I will attempt to share my experience on this transformative trip.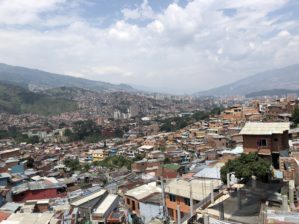 I traveled to Colombia with 25 other classmates, mostly sophomores, though two other freshmen and a junior Jerome Fisher M&Ts student among a few others also attended, through the Wharton International Program (WIP) over spring break. We visited dozens of landmarks and went on company visits, including the booming local delivery service Rappi (think Uber Eats plus, with deliveries ranging from groceries to an actual person who can play video games with you), fascinating family-owned flower growing farm Flores Timana, who used RFID and XRay technology for faster, more comprehensive sorting, and revolutionary cable car transportation line District 13.
Our days were filled with an exciting program from 6 AM-10 PM and each day truly was once in a lifetime opportunity to meet the coolest people, including various alumni in the region and even the mayor of Bogota himself! After a long day, we would venture out into the city and explore all that it to offer, including one of my new favorite dishes: bandeja paisa, pictured below.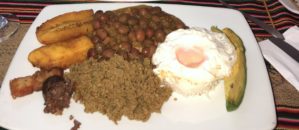 What struck me the most was the candidness and kindness of the people we met, starting with our tour guide Andres who exuded so much knowledge and love for his city and country. At company visits, everyone began with a passionate monologue of what excites them about their work and industry, those in startups and big corporations alike. Their common goal to help better the lives of others is oftentimes forgotten in our lives as students, particularly in information sessions around campus. It was refreshing to be reminded of the ultimate pursuit to improve quality of life for others through passionate work and happiness; they truly are not mutually exclusive.
Though only five full days long, we saw, experienced, learned (and ate) a lot. The trip ignited a passion for the region and I hope to explore other parts of Colombia and the greater South America soon!
Shannon Lin is a member of the Class of 2021 majoring in electrical engineering, minoring in computer science, and pursuing an individualized concentration: "Finance of Healthcare Innovation". After graduation, she plans to pursue a Master's in Robotics and apply her various disciplines to the healthcare industry.