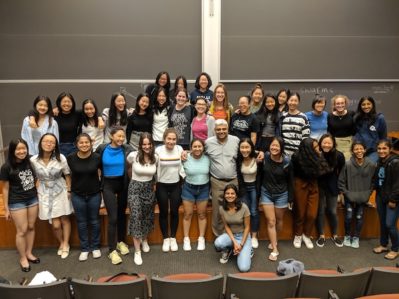 M&TSI was nothing like I anticipated, but in the best possible way.
The M&TSI experience started before the program even began. As soon as I knew I was going, I joined a Facebook group for all the RTAs and attendees where everyone began introducing themselves. Through just a few lines, I started to see how gifted and dedicated my peers were. Past academics, we shared our hobbies, our p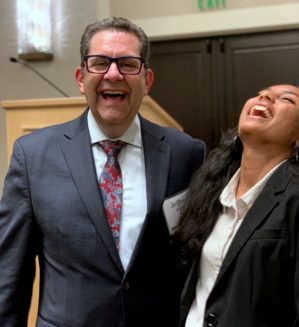 assions, and our favorite TV shows and artists. Friendships naturally began to form; I messaged the person who became my closest friend at the program before meeting her. The RTAs, mainly M&T students themselves, were equally as impressive and seemed genuinely welcoming. The tight-knit community that I was to be a part of for the next three weeks was already coming together.
Then came drop-off day. I arrived at Penn from my Californian suburb, so I was a bit anxious. Like at most other summer camps, I expected to be quickly checked off from a list and then left to my own devices. Instead, the chatty, humorous RTA who greeted me took my luggage and talked about our different hometowns and interests all the way up to my sixth floor dorm. When I finished unpacking, I met one of the people I had been messaging for the first time and sat in her room to talk for hours. She was part of DECA, I competed in FBLA, and both of us listened to similar music. Never had I made a close friend so fast, but it was easy because of how similar our interests and goals were. At the program, I was always surrounded by like-minded individuals.
All of this is not to say that M&TSI was easy. In fact, those three weeks were some of the most challenging I had been through. On Day 1, a case-study analysis was due with reading and 50 unique venture ideas due the next day… In the mornings, we learned about starting and managing ventures through lecture and discussion, allowing us to weigh in our thoughts on decisions made by now-successful companies before they became household staples. Having a couple dozen well-informed classmates from around the world meant many perspectives were represented in conversation, giving a new level of understanding to each topic we covered that I had not had at school. No matter how tired I was, when I walked into class, I was eager for our next lesson. In the afternoon, we had an engineering lecture and lab, followed by time to work on our final product. Sprinkle in a guest speaker and homework on most days, and our schedules were packed tight; we truly made the most out of our three weeks at Penn.
The extensive network of people involved in M&TSI made the program especially impactful. Even when under the weather, a Penn alumni with a similar (real) venture as our proposed venture helped guide us. Guest speakers also played a major part in my learning. Imagine meeting the people who have your dream career, started out in your shoes, and can lay out exactly how they got to the point they are at. One of my favorite guest speakers was Jason Halpern, a Penn M&T and Integrated Product Design alumni who took a solution to a smaller-scale problem, providing power to his family's farm, and took the resources offered at Penn to grow it into Gridless Power, his start-up. He didn't just do a knowledge dump and leave; we were able to ask him questions like how he marketed the widely-applicable product he had developed (he was mainly contacted by customers) to learn more than the basic content of a Powerpoint presentation.
The RTAs were essentially the camp counselors I have always wanted. They were to us as upperclassmen are to freshmen. When things went wrong, like our MVP failing or us falling behind on our final project, they were both your biggest supporters and best resources. One brought me cookies at 2 AM while helping me fix my team's marketing strategy. Another always regularly checked in to give feedback on our go-to-market plan and to crack a joke while he was at it. And there was a lot on your plate, you always had your classmates. Every bus ride, every walk to the lab, and every meal was spent talking, whether unloading the stress of our upcoming senior year or planning where to go out for dinner.
Overall, M&TSI helped solidify what I wanted to do with my future. The final project consists of both creating a minimum viable product and crafting a go-to-market plan, and I was thoroughly involved in both aspects. After the Institute, I knew that I wanted to continue what I did there, so I sought out ways to study both business and engineering in college. I am very happy that I chose to attend&TSI and would highly recommend it to anyone thinking of applying!