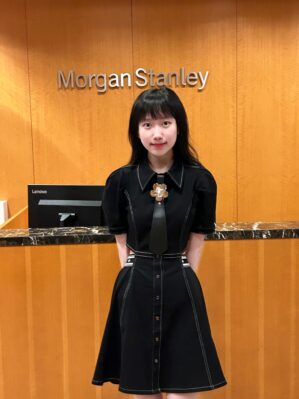 The Management & Technology Summer Institute (M&TSI) is a rigorous and rewarding for-credit summer program for rising high school seniors and a select number of rising high school juniors interested in exploring the integration of technological concepts and management principles. This summer's program recently concluded and we asked student Xitong Liu to tell us about her experience and her advice to other high school students considering the program for next year.Q: Why did you apply to M&TSI? What were your goals in attending the program?
XL: Last summer, I attended an entrepreneurship summer program for four weeks, strengthening my interest in business. Personally, I come with more business experience rather than engineering knowledge, so I am eager to enhance my knowledge and broaden my understanding of the subject matter in M&TSI. Moreover, due to a lack of resources in my school community, I haven't had the chance to explore the field of technology in daily life. I obtained some experience in data analysis when I was doing my economic research project, but the heavy coding process challenged me in dealing with the final data integration. Therefore, the M&TSI program was an opportunity to help me identify my potential to be a cutting-edge innovator. I wanted to determine my future career path and make invaluable connections with like-minded peers in M&TSI, all of which were succeeded by attending more than 20 guest speaker sessions (including M&T alumni and Penn professors) and utilizing the fantastic resources offered by Wharton and Penn Engineering.
Q: What is something you learned at M&TSI that will help you during the upcoming academic year?
XL: Time management skills and fearlessness to ask questions are the two most important skills that I learned from attending M&TSI 2023. Given the extremely rigorous course schedule, I struggled to balance numerous assignments and limited sleep. However, after becoming familiar with daily coursework and supports from TAs, I began to build my calendar, and effectively manage my time during the program. Additionally, I was extremely hesitant to ask questions during the engineering labs and always tried to figure out the solution by myself for longer periods. The huge support I received from TAs ultimately encouraged me to ask any questions anytime, which largely increased my efficiency during engineering labs and helped me overcome the fear of asking questions.
Q: How did M&TSI prepare you for the college admissions process?
XL: M&TSI is the best program to attend for those who want to have a taste of the agile product design process and its intersection with business, which is extremely beneficial for students like me who are still exploring their area of interest and deciding what majors to be applied in colleges. Before attending this program, my intended majors were mainly business related, such as marketing, business management, entrepreneurship, and more. However, after M&TSI, I feel that I can combine my interests in technology and business to find suitable majors/programs.
Q: How do you think your M&TSI experience will help you once you begin your college career?
XL: During the program, we were treated as normal Penn undergraduates with the same level of coursework and daily schedules, which gave us a perfect sense of the real Penn student's daily life routine and helped us to identify whether we were suitable to this lifestyle. Like real college life, the students in M&TSI programs came from various backgrounds in different countries around the world, a very diverse population of students, and we embraced different cultures by working effectively with each other. In addition, we could access the teaching buildings and valuable resources that provided us with the opportunity to experience the study environment as Penn undergraduates.
Q: Why would you encourage other high school students to apply to M&TSI?
XL: I believe M&TSI is one of the best programs for both business and engineering students to apply for, and it is an unusual program that can allow students to learn both subjects at once. Moreover, M&TSI is a highly selective program that only accepts 75 students globally, which guarantees the academic standard of admitted students and creates a circle for like-minded students to form long-lasting connections. Each M&TSI student was unique, with different achievements and hobbies, and we could make a properly functioning product within one and a half weeks by employing our strengths. At M&TSI, we could access many Penn resources and get in touch with professors or even deans from different colleges, which is a highly precious opportunity for a high school student.
Q: What is one piece of advice you have for high school students interested in applying for the program next summer?
XL: Don't limit your potential; feel free to explore any fields you are interested in; it doesn't need to be only business and technology related. Even though the M&TSI program itself focuses on building business and engineering skills for high school students, I did meet some friends here that are neither business major nor engineering major students. Additionally, be psychologically prepared for any admission decision, and never give up if you are rejected or wait-listed based on the highly selective nature of M&TSI. Good luck to all the potential M&TSI 2024 applicants, and I'm sure you will enjoy your time on campus!